Hi everyone….to start, I don't normally write product reviews, but had to share my thoughts and experiences on the new Surface 3 (not the existing Surface Pro 3, which was released last year) as I love it as my new mobile computing device. This surface was released during the week of Microsoft Ignite 2015 (May 4th-8th) of which I received my that week have had 2 months to play with it.

What is the Surface 3?
In short, the Surface 3 is a thinner, lighter, smaller and cheaper version of the Surface Pro 3. It has a 10.8-inch screen and weighs just under 2 pounds with the keyboard attached, It's a little awkward on your lap and you'd struggle to recommend it to a friend without first pointing out how 'different' it is. It's complicated.

That doesn't sound like a ringing endorsement, but the Surface 3 is more than the sum of its parts. Its Intel Atom processor is competent rather than fast and its battery is decent and it's versatile and – like a good camera – it makes you want to use it.  And, unlike the Surface RT it replaces, it runs on a proper version of Windows, so it's actually useful.
Microsoft Surface 3 specs
Screen size: 10.8 inches
Screen type: ClearType Full HD Plus Display
Resolution: 1920 x 1280
Pixel density: 210 ppi
SoC: Intel Atom x7-Z8700 – Type Quad-core – Speed 1.6GHz (with Intel Burst up to 2.4GHz)
GPU: Intel Gen 8
RAM: 2GB / 4GB (depending on model)
Storage: 64GB / 128GB (depending on model)
Expansion: micro SD
Camera: 8MP autofocus
Flash: None
Front-facer: 3.5MP
Battery: 10 hours by Microsoft testing (Personal testing 6-8 hours)
OS: Windows 8.1 (with Windows 10 upgrade coming July 29)
Bands: LTE version not due until June 2015
Bluetooth: Bluetooth 4.0
WiFi: 802.11 a/b/g/n/ac
Sensors: Ambient light sensor / proximity sensor / accelerometer / gyroscope / magnetometer
Build Magnesium alloy with ceramic finish
Size 267 x 187 x 8.7mm / 622g
Price $499/$599
The one I have reviewed in this blog post is the 2GB/64GB Model
Design
In practice the Surface 3 is just under a half pound lighter than the Pro. This means the Surface 3 feels more like a genuine tablet than the Surface 3 Pro, and it's an important difference. You'll want to use the Surface 3 more because it's lighter, easier to carry and less cumbersome when out and about.
It's also thinner – 8.7mm vs 9.1mm – but the more important point is the Surface 3 is fanless. Intel's Atom processors aren't speed demons, but they're efficient enough that they run happily without additional cooling. It's another way the Surface 3 is a better tablet, as you'll never be interrupted by the unwelcoming fan turning on.
The Surface 3's also a vastly better hybrid than the ill-conceived Surface RT line ever was. That's mostly down to the fact it runs a full, unlimited version of Windows 8.1 with Windows 10 coming on June 29, 2015 as a free upgrade.
While smaller, the Surface 3 retains the same 3:2 aspect introduced for the Pro 3. It's a good compromise between the widescreen 16:9 of previous Surface tablets and the 4:3 aspect of an iPad. It works just as well in portrait as in landscape, or in desktop and tablet modes.
Use it on a table, though, and the Surface 3 feels little different from an ordinary laptop. You can magnetically clip the keyboard to the bottom of the screen to create a more comfortable typing angle, but it feels better for typing when left flat on a hard surface – the angle works best on your lap.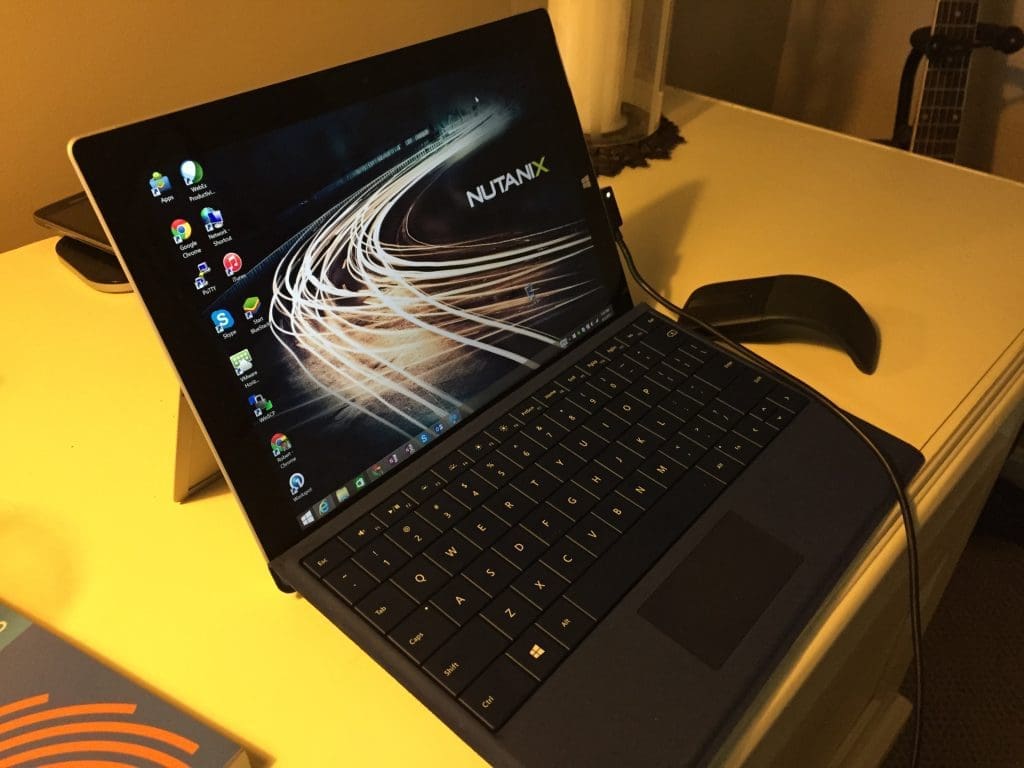 The versatility of the design means you can enjoy using the Surface 3 in settings where laptops are awkward, and you can even use the on-screen keyboard effectively with the Surface 3 at its shallowest angle. 

Connectivity is pretty good, considering its size and power.The Surface 3 has a full-size USB port, a Mini DisplayPort output and Micro USB expansion, which is sufficient when paired with the fast AC Wi-Fi and Bluetooth 4.0. I have a Dell Mini DisplayPort Adapter that came with my work laptop and it works fine with it.
Everything you really need is here and it even has two cameras. You get an 8-megapixel camera at the rear and 3.5-megapixel on the front. They're both adequate for what you'll need from a tablet.
Keyboard and Trackpad
The keyboard is a separate purchase….$130 bucks…Ouch…but the keyboard is a decent effort given the constraints of the hybrid design and the smaller screen. In fact, the keys are the same size as those on the Surface Pro 3, so there's no meaningful compromise there. They're comfortable to type on and have a not unpleasant sharp, precise action. We're not talking ThinkPad quality here, but they'll do.
The touchpad, however, is very small and awkward. It's hard to be precise on such a small pad, and using gestures to scroll up and down pages is hit and miss – Google Chrome was particularly bad for some reason.

But the large, responsive touchscreen makes up for this. It's often easier to employ it to do some actions, and the nature of the web these days means many websites and web apps are more touch friendly than in the past.
If there's a serious concern about the keyboard, it's the durability. The keys and touchpad seem fine, but the soft velour-like material around the palm rests scuffs and wears easily.
It's a cosmetic rather than a functional issue, but the idea that your expensive keyboard accessory could look tatty and worn after a year or so is kind of annoying.
Surface Mouse
I purchased this to carry around with my Surface tablet. My reasoning was this: "it's small, it lays flat for transport, and the Surface edition is Bluetooth, so this will be a great fit.".  But like anything there are some good and bad:
PROS:
Bluetooth – no wires, no dongle – this is only for the more expensive Surface addition.
Scroll touch strip – with with optional haptic feedback
Stylish look-and-feel
Folds flat – it's essentially full size and full profile mouse but folds flat for travel or storage.
Adjustable movement of the scroll – via software, it can be adjusted precise enough for drawing and small on-screen movements.
BlueTrack Technology – works on almost any surface
Easily adjustable to left or right hand.
CONS:
Cost – Expensive – $60 bucks on Amazon – but got mine on Ebay for $25 used
The middle touch strip (or click/scroll) on this mouse occasionally stops working.
No horizontal scrolling on middle touch strip.
Some connection issues – it sometimes looses the connection to my Surface 3
Overall, the mouse is very light and I like that it can fold flat when not in use, which is very convenient for travel, but I really don't like the price – $60 – really? With all that said, however, if you want something that is really light, portable, and sleek looking, this mouse is for you.
Surface Pen

Another expensive option is the Surface Pen…$50 bucks
OneNote is the best applications as I an a avid note taker and it works great. The note taking and the Surface Pen remains excellent. It's exactly the same as that of the Surface Pro 3. The pressure sensitivity works wonderfully in sketching and painting apps such as Fresh Paint, and functions just as effectively for handwriting and inking applications. It's comfy to hold, with the matte finish providing the right amount of grip.
While some applications—like OneNote support the digital inking capabilities of Surface Pen, many do not. But you can still use Pen to handwrite. For example, you could handwrite a web address in the IE address bar by selecting it with the Pen tip, activating the Touch Keyboard (using the icon in the taskbar) and then handwriting keyboard layout. Then, just write the address you want.
Office 2016 Preview on Surface 3

Also around Ignite 2015, Microsoft released the Office 2013 consumer preview.  I decided to give it a spin as I am an avid Outlook user. I downloaded a 32-bit version of the Office 2016 though my work Office 365 subscription and replacing the version of Office 2013 installed on my test machine. To install, just head to your Office 365 My Account page, then click Language and install options. From there, click additional install options. In the drop-down menu, select to install either the 32-bit or 64-bit version of the Office 2016 Preview.
Once the software's installed, you'll need to enter the email address matched to your Office 365 subscription the first time you launch an Office application. This registers and activates Office.
If you're not an Office 365 subscriber, the process is just as easy . Simply head to the Office 2016 Preview page and download the executable for either the 32-bit or 64-bit version of Office. Once it's downloaded, click the program icon to begin the installation process.
When you're prompted to enter the email address associated with your Office subscription, press the small blue "Enter a product key" link underneath the field instead. Then use the following product key:
NKGG6-WBPCC-HXWMY-6DQGJ-CPQVG (from Office 2015 Preview Page)
That's it! Poke around, try all the new stuff, and be sure to send Microsoft feedback using the smiley-face icon in the upper-right corner. Microsoft wants to hear whenever you stumble across either pain points or frictionless experiences. That's what previews are for, after all.
Microsoft is using its click-to-run technology (based on App-V) to stream and install Office in the background, downloading preview copies of Access 2016, Excel 2016, OneNote 2016, Outlook 2016, PowerPoint 2016, Publisher 2016, and Word 2016. The preview expires in 180 days. The installation was simple and painless.Remember, this is a preview and it is expected to be a little buggy.
The most visible change is that Office applications each now have their own distinctive colors — blue for Word, green for Excel and red for PowerPoint, with Outlook and Visio lighter shades of blue. The color is most noticeable in the Ribbon across the top of the program windows and in the title bar. You can always go back to the white of the previous version of Office if you want. As for me, there's little enough color in one's daily life, so I find the bright new colors a welcome addition
Changes to Outlook (my most used and favorite app)
The noticeable changes in Outlook are a few tweaks IMO. For example, when you're composing an email and click Insert –>Attach File, you'll see a list of all the recent files that you've used in Office. Given that there's a reasonable chance that you'll be inserting a file you've been recently working on, I found this a time-saver.


Outlook will also adjust its interface depending on the size of the window in which you run it. It normally has a three-pane view: folders in the left pane, list of emails in the middle pane and the email text in the right pane. However, when you run Outlook in a small window, it now shrinks to either a two-pane view or a one-pane view, depending on the window size, which works great on the Surface 3 at different viewing angles.

Office Overall
As is so often the case with Office, the new version appears to be better than the old version, but not so much better that an Office 2013 owner should be compelled to upgrade. It's possible that will change as we get nearer to the release, but I'll be surprised if anything truly groundbreaking were added to the already mature and capable suite.
Bottom line….
The Surface 3 is affordable, powerful, versatile, and flexible. It isn't an engineering or gaming machine, but for work on the go, the Surface 3 seems to offer an ideal combination of features and functionality at the right price. It looks like Microsoft finally got it right with the Surface 3. I will be watching these devices going forward.
Until next time….Rob